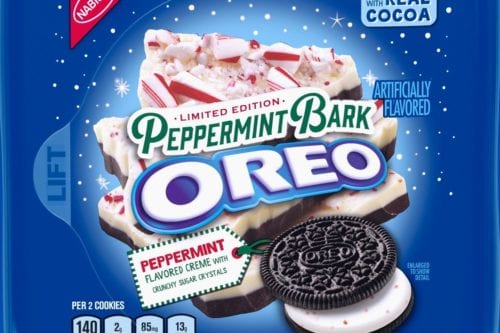 The most wonderful time of the year is almost here. And if you weren't already excited enough for the holiday season, Oreo is giving you yet another reason to get in the spirit! The cookie company is launching limited edition Peppermint Bark Oreos just in time for the holiday season.
Yup. The brand is taking our love of both peppermint bark and Oreo cookies and putting them into one delicious treat. They're bound to be so good you won't want to share 'em — not even with Santa.
According to the JunkBanter Instagram account, Oreo first broke the news of the seasonal flavor at the Sweets & Snacks Expo in Chicago. According to the post, the company decided to upgrade their Peppermint Oreos by adding "crunchy sugar crystals" to the creme center which, honestly, sounds pretty amazing.
As the Instagram post states, these cookies won't be available to shop in stores until close to the end of the year, so we have just a bit longer to wait.
They'll also be available on Prime Pantry, and on Target's and Walmart's websites. You'll be able to shop those online and on store shelves as soon as they officially launch. They're selling for $2.99 at Target and $2.98 at Walmart.
The sooner you can shop these Oreos, the better. Because with the amount of peppermint and chocolate-loving people out there, these are bound to sell out quickly.
People are more than ready to get their hands on this deliciousness. Twitter user @emileeveillon said the cookies were needed "yesterday":
Oh I need those peppermint bark Oreos yesterday

— Emilee Veillon (@emileeveillon) October 22, 2018
Many are already alerting their friends that they're on the search of these. Twitter user @keldunn_ is on a mission to find them once they're available to shop:
the limited oreos this season are peppermint bark so if any of y'all find them, let ya girl know where

— kel (@keldunn_) October 22, 2018
And in case you were wondering if the fandom was serious — may we present Twitter user @ladiesandJENNts, who was brought to tears at the thought of these cookies and Christmastime:
i just started crying bc i saw the peppermint bark oreos and got excited for christmas

— jenn (@ladiesandJENNts) October 23, 2018
If you're craving these just as badly as everyone else, but are feeling impatient for their launch, you might want to tide yourself over by making some peppermint bark from scratch. One recipe from A Latte Food uses Oreo cookies for added flavor and texture:
But once those Oreo cookies drop — be ready!
We were not paid to write this story. The products and services mentioned below were selected independent of sales and advertising. However, Simplemost may receive a small commission from the purchase of any products or services through an affiliate link to the retailer's website.
This story originally appeared on Simplemost. Checkout Simplemost for other great tips and ideas to make the most out of life.