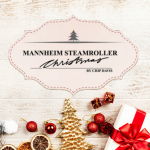 Be sure to tune into 104.1 KSGF at Noon on Christmas Eve for Mannheim Steamroller's "An American Christmas", sponsored by Flying Feathers Game Bird Hunting and Sportsland Pickup Covers. The show will also run on Christmas day till midnight.
This program is narrated by the legendary Chip Davis of Mannheim Steamroller.  Don't miss the warm stories of the holiday season blended with rich holiday music!
Will you be out of town? Be sure to download the TuneIn app so you can listen to "An American Christmas" wherever you are this Christmas season. Or, you can ask Alexa to listen to the "KSGF skill" on your Amazon device.
Also, don't miss as we count down the 12 weekdays till Christmas. Tune into KSGF Mornings with Nick Reed weekdays starting Friday, December 7th. Each weekday morning around 7:30am Chip Davis will share an exciting story about the history of Christmas.