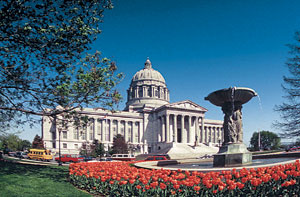 Missouri Lawmaker Jason Chipman (R-Steelville) is moving to make a day of remembrance for victims of communism. The lawmaker denounced historic evils perpetrated by Joseph Stalin and Chairman Mao as well as modern human rights violations like the imprisonment of Muslims in western China.
Representative Steve Helms (R-Springfield) used the motion to speak about his concern about the country's "slide toward socialism."
Democrats on the floor complained that former bills to recognize the victims of slavery were not also brought before a committee. Democrat Alan Green, a representative from Florissant said he was glad that communism was being attacked, but that it wasn't the only system that victimized people.