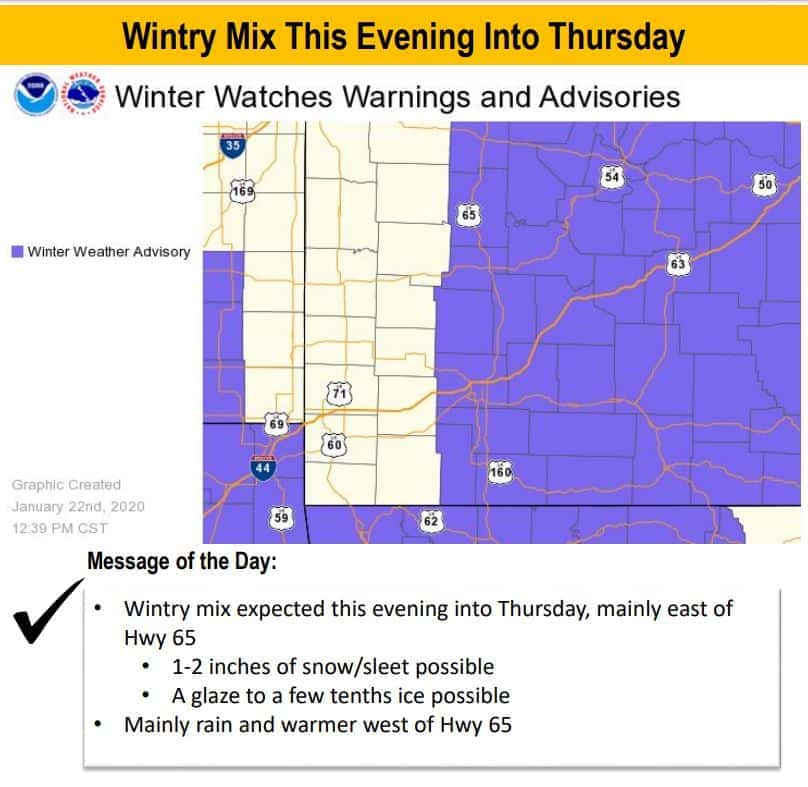 Roads are expected to be slick, especially east of Highway 65.
A wintry mix could create hazardous driving conditions into Thursday morning, mainly along and east of Highway 65. #mowx #kswx pic.twitter.com/zueZd1ziH4

— NWS Springfield (@NWSSpringfield) January 22, 2020
The National Weather Service says Springfield and areas east of Highway 65 could get up to two inches of snow along with a glaze of ice.
A Winter Weather Advisory is in effect through Thursday at noon.
Areas west of Highway 65 will be above the freezing mark and should get mostly rain.
If you have to drive, make sure you check the roads on the MoDOT Traveler Info Map.
Due to the winter weather motorists are urged to exercise extreme caution. Check conditions before you go: https://t.co/7OGeKszLU2.

And if you're involved in an incident, STAY IN YOUR VEHICLE with your seat belt on.#MoDOTSW pic.twitter.com/9xl2EZNwBv

— MoDOT Southwest (@MoDOT_Southwest) January 22, 2020