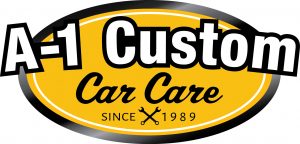 10AM Saturday Mornings
Studio Talk or Text Line: 447-5734
Click Here to Contact A-1 Custom Car Care
It is the Mission of the A-1 Custom Car Care radio hour to educate, entertain and give insight into the professional automotive repair world.  ASE Certified Master Technician, Dustin Atwood, has a wealth of knowledge to answer any of your questions.  So if you are a DIY person or you just want to be better informed when shopping for your auto repairs and maintenance, give him a call.  He is an active working automotive professional fixing cars and solving customers concerns on a daily basis.
Dustin Atwood
Dustin's interest in cars began at a very young age when he tagged along with his father who worked at several automotive dealerships.  He began his career by earning a degree in Automotive Technologies at Southwest Missouri Tech in Monett Missouri.  His first real job was with A-1 Custom Muffler and Brake where he apprenticed for several years learning to fabricate and weld custom exhaust.  He left A-1 to work for a mobile repair company where he learned a lot about Diesel and larger commercial vehicles.  He returned to A-1, now A-1 Custom Car Care after a year.  If you ask him why, he will say, "Because I learned how much it matters to work for a reputable company that invests in their employees.  It was a very valuable lesson early in my career that not all companies are alike."  When he speaks to automotive students at OTC about what to look for from an employer, he shares his experience with them.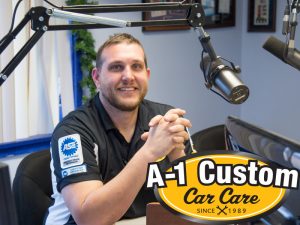 After returning to A-1 he soon moved up to assistant manager then manager becoming the youngest manager in the company at age 25.  Because he ran the most successful shop, he was promoted in 2014 to operations manager over multiple shops.  He attributes his success to 3 things.
Training – Being a sponge, learning from peers and daily experiences in the shop.  Taking advantage of any opportunity for training.  He averages about 100 hours per year of formal training.
Tools and Equipment – Invest in your own tools and equipment and work for a company that does the same.  If you are serious about fixing todays cars this is a necessary ongoing expense.
Attitude – Enjoy what you do and be the best at it.
His passion for his chosen career is something that you will always hear him talk about in his radio show.  It is very genuine.  That attitude has driven him to hold 23 active ASE certifications when only 8 certifications are required for Automotive Master Technician.  From Service Advisor to Parts Specialist, Maintenance to Advanced Diagnostics, these are just a few of the 23 certifications he holds.  This is just one way he validates his expertise and knowledge in all facets of the automotive repair industry.
He is an active member in the local ASA Chapter (Automotive Service Association) serving 2 years as Vice president and now as president.  His reason for supporting and being an active member in ASA is to raise the bar for the entire automotive repair industry.  Realizing that there are still many shops that give the repair industry a negative public image, he works with other independent shop owners to bring top quality training to our area.  The ASA organization teaches and promotes best practices and a strict code of ethics.  Learn more about the ASA.
Sarah Myers 
We're excited to announce a new co-host to the Car Care Hour – Sarah Myers!
Sarah Myers has been working with 104.1 KSGF since 2017. While Sarah is young, she is no stranger to the news talk format. Sarah has been behind the microphone since the age of 17 where she landed her first job in radio working with AM560.
Sarah grew up in Fair Grove, Missouri, and considers herself a country girl by heart. She loves going to the lake, hiking, and fishing.
Sarah graduated from Ozarks Technical Community College in 2015 with her associate degree in Electronic Media Production. She later went back to school and graduated from Drury University in 2019 while majoring in broadcast journalism and criminology.
Sarah joins Dustin to ask the everyday questions, products you can trust, and what to avoid when taking care of your vehicle.
You can also catch Sarah Monday-Friday 6-9 a.m. on KSGF Mornings with Nick Reed.
Learn more about A-1 Custom Care Care Here:
Click here to schedule an appointment with A-1 Custom Car Care.