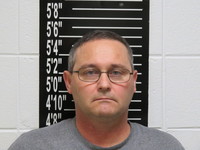 A man from Branson, who was a correctional officer in Taney County, has been charged with having sexual contact with an inmate.
Court documents say a woman told a jail administrator that she had been having sexual contact with Jay Senger between October 10th and 18th.
The female inmate says it was consensual.
In an interview with investigators, Senger says the inmate was tempting and teasing him and he also said there was some sexual contact.