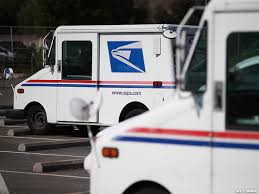 Those looking to vote absentee out of caution during the coronavirus pandemic have until Wednesday, the 21st, to send their request for a ballot in.
Ballot requests must get to an election official by 5 p.m on Wednesday. If you haven't voted by mail before, you must submit a copy of valid identification.
You will have to get the ballot notarized by an authority if you are voting absentee or by mail. You can vote absentee in the office of a local election authority until the night before the election.
Mail-in ballots must be received by Election Day.
Valid forms of ID are as follows:
Identification issued by the state of Missouri, an agency of the state, or a local election authority of the state;
Identification issued by the United States government or agency thereof;
Identification issued by an institution of higher education, including a university, college, vocational and technical school, located within the state of Missouri;
A copy of a current utility bill, bank statement, government check, paycheck or other government document that contains the name and address of the voter; or
Other identification approved by the secretary of state under rules promulgated pursuant to Missouri law.
For more details on rules related to voting absentee, click here.
For information on where to get your ballot notarized, organized by county, click here.