Nick Reed's Must Read Headlines – 10.04.19
KSGF Happy Hour: 
TODAY is the day! Make sure to join us this evening for the next KSGF Happy Hour from 4-6 p.m. at Whiskey Tango!
The official name of the 1/2 price drink is: Sailor's Delight! Thanks to everyone who submitted their idea for the drink name!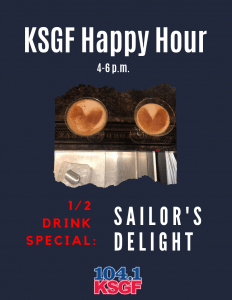 Pelosi & Impeachment: 
Democrats are pressing impeachment despite the Senate is not willing to remove President Trump from office.Why is Nancy Pelosi doing this?
And President Trump is calling Pelosi's bluff. The White House announced that they will send a letter on Friday "daring" her to hold a vote on Democrats' impeachment inquiry.
A University of Missouri law professor has weighed in on the idea of the President Trump impeachment.
Honor Flight: 
Chris Stark with Honor Flight of the Ozarks chats about an upcoming event you don't want to miss! Join Honor Flight at the historic Fox theater for L-Bird The Little Plane That Did. The event is November 8 at 6 p.m. Tickets are $40.
Banning Trump Ads: 
CNN is apparently refusing to air a President Trump ad. The ad blasts both CNN reporters and Joe Biden.